The Early Christmas Prank Of 2009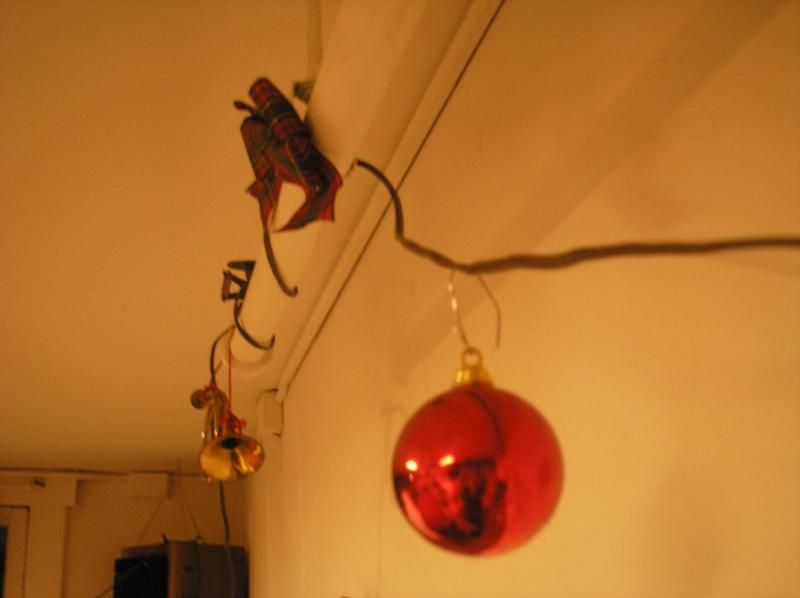 In the autumn of 2009, the women's house brainstormed a friendly prank for the men's house. In the past, the men would send the ladies on lengthy scavenger hunts while treats were set up back in one of the dining rooms (i.e. an ice cream sundae trough or a carnival). This year, the ladies decided to get ahead of the game by throwing the men a Christmas party breakfast. In October.
The day before the prank, the ladies snuck into the men's house and snitched small items from every boy (to later wrap up and put under a fake Christmas tree at the party). However, one of the ladies made the mistake of stealing a noticeable item: the clock on 2nd deck landing. The boys started to realize that some of their things were missing, so they prepared for a vicious attack from the women. In order to protect themselves, they waited until the women had gone to bed. Then, they stealthily piled the women's house furniture in the stairways (to slow the women's progress in getting over to the men's house).
The ladies woke up at 3:30 AM to set up the party in the men's TV room. The baracade in the stairway slowed them for only a few minutes, but made them cautious. They placed lookouts by all of the basement doors, then set to decorating. Some ornaments here, lights and garlands there, and a fake Christmas tree on the pool table (complete with presents for everyone). Then it was back to bed for a little while.
At 6:00 AM, the women headed back over to the men's house to complete add the final touches: fresh chocolate chip pancakes, The Grinch on the muted TV, and some Mannheim Steamroller on the audio system. Since the boys had caused such difficulty with the furniture, the women decided to wake them up a little earlier than planned. What better way to wake up for a Christmas party than to some carolling? The women gathered at the base of the stairs and belted their favorite carols. Some of the men, fearing the worst, came downstairs armed with water guns. After some reassurance, they were willing to follow the girls into the basement for their Christmas party treats. Unfortunately, the girls' merry singing was not loud enough, and only about 8 of the men came downstairs to join the party.
For those lucky few that did attend, it was a grand party indeed. The decorations were even kept up, in remembrance of the festivities, until after the Halloween dance.